October - Sister Circles
22oct12:00 pmOctober - Sister Circles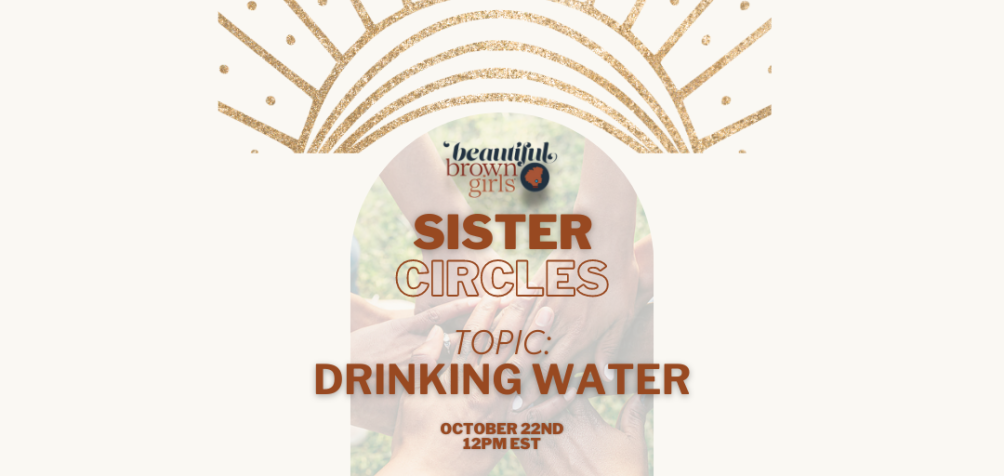 Event Details

A circle of sisters coming together growing and diving deep! Our discussion for October will be centered around the importance of Drinking Water and all the benefits we receive.

Come ready to have open discussions with other Beautiful Brown Girl(friends). We'll be journaling and centering ourselves together as we learn about and practice mindfulness strategies together.

Date: Sunday, October 22nd, 2023
Time: 12 pm EST

Registration Link: https://us02web.zoom.us/meeting/register/tZYoduytqjopHNdaNdOa62NL0GwT7a5n_ItD

RSVP required:
After RSVP'ing, you will have access to the Zoom meeting link containing information about joining the Zoom meeting.

What you'll need:

We'll be connecting via video conference and you'll be able to join via mobile, desktop, tablet, etc. This is an interactive learning space. Be prepared to talk and learn in breakout rooms with other Beautiful Brown Girls.

In order to create a safe and relatable environment we ask that all participants have on their cameras in the space and are in a quiet environment where you can freely engage in discussion and quiet reflection.

**For security purposes we will close the meetup at 10 minutes after the hour to honor and protect our community's safe space.

Zoom Chat Rules:
Be mindful of background noise – Keep background noise to a minimum, make sure you mute your microphone when you are not speaking.

Position your camera properly – ensure it is in a stable position and focused at eye level, if possible.
Virtual Event Details
RUN
Event has already taken place!